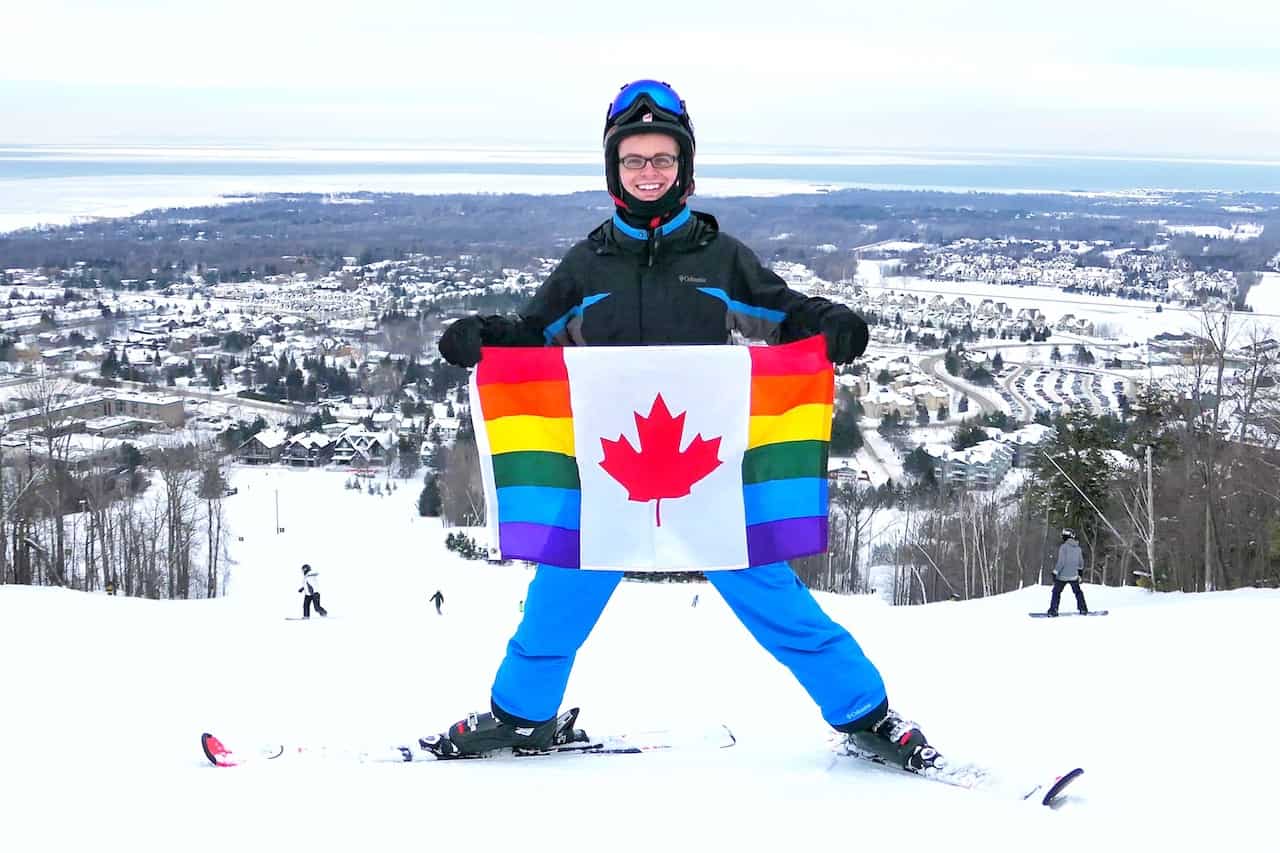 Blue Mountain is the only ski resort (as of now) to host the first active Ontario gay ski weekend! Although it's not your typical "gay ski weekend", it's still a winter pride to celebrate the diversity of our LGBTQ family on and off the mountain!
The Only Ontario Gay Ski Weekend
Blue Mountain has transformed the typical "gay ski weekend" into a family-friendly Rainbow Ski Weekend! From March 23-24, Rainbow Ski Weekend will host drag queen entertainment, family-friendly activities, parties and après ski all weekend long!
RELATED ARTICLE: Gay Friendly Blue Mountain: Accommodation, Restaurants and Activities
There's no better time to get your last gay ski than this weekend at Blue Mountain!
This fabulous ski resort is bringing PRIDE to Winter in Ontario! So bring all of your colourful ski gear and hit the mountain!
OR skip the slopes and head straight for après ski!
More About Blue Mountain & this Ontario Gay Ski Weekend
Blue Mountain Village is a four-season resort located just over a 2-hour drive north of Toronto, in the Collingwood area! Blue Mountain Resort is Ontario's largest ski resort, offering a true ski village atmosphere; lodging, shopping, dining, and a wide variety of activities all year long. Perfect for a day-trip, or an affordable local get-away.
RELATED ARTICLE: 5 Romantic Things to do in the Blue Mountains
For more information and complete event listings for this Ontario gay ski weekend visit: http://www.bluemountainvillage.ca/rainbowskiweekend.
Thoughts on Gay Ski Weekend's
I'm a HUGE fan of any gay ski week in Canada! However, because "gay ski week" or weekend has been labelled as "gay", I've always felt the phrase lacked inclusivity.
The LGBTQ+ community is built on inclusivity of all people including allies who don't identify as LGBTQ. And the sad truth is that I've have heard from many allies who I invite to a gay ski weekend the following:
"I'm not gay, so are you sure I can go skiing this weekend?"
It makes me upset to hear an ally doesn't feel welcomed to some of the best winter pride events in Canada just because they don't fit the label of the event.
This is why I'm a huge supporter of Blue Mountain for hosting their first annual Rainbow Ski Weekend and welcoming all people no matter what colour of the rainbow they are! It's a gay ski weekend where I feel comfortable bringing friends and family to celebrate the LGBTQ community, no matter their sexuality.

So make sure to support your local Pride events and grab your red snow pants, orange ski jacket, yellow hat, green scarf, blue gloves and something purple/violet to join the most colourful LGBTQ family celebration of diversity and inclusiveness you can imagine at the first annual Rainbow Ski Weekend at Blue Mountain!
RELATED ARTICLE: Romantic Getaway to Blue Mountain | How much does Blue Mountain cost?